Battle In The IE ! POWERHOUSE Corona Centennial (CA) v Norco (CA) Led By 6'6 Oklahoma St QB Commit Shane Illingworth (Video below)
For any merchandise visit http://www.utrsportsmedia.com/shop/

Presented on US Sports Net by Game Planner Pro!
Enter Code USSports to save 10% off the annual subscription. For Football Coaches, By Football Coaches Learn More...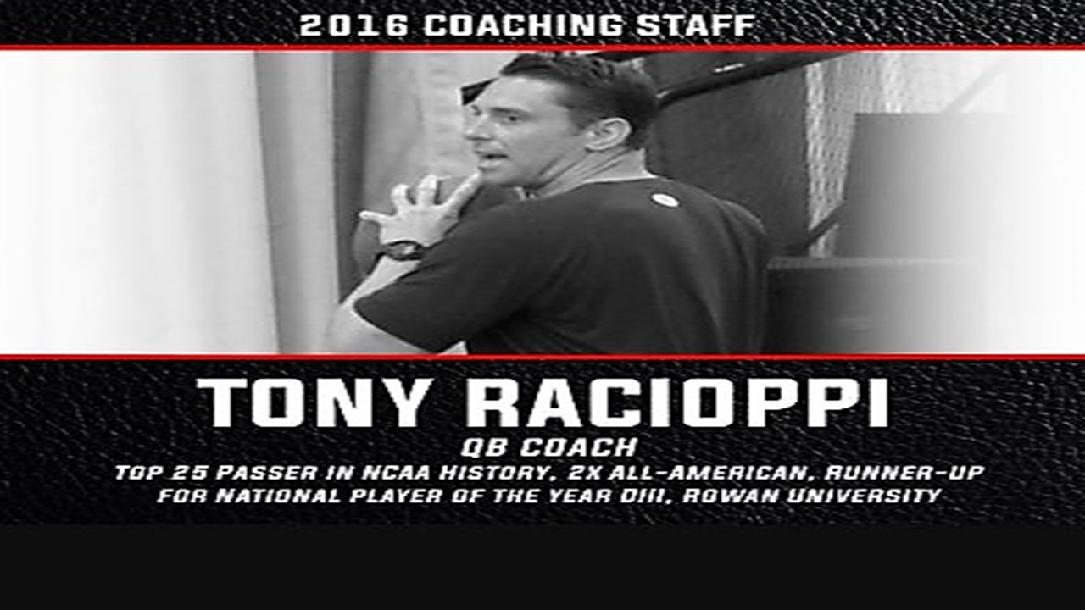 Description
Tony Racioppi
Quarterback Training Session
Sequence Throwing
Philosophy
Tony Racioppi
Test Football Academy Quarterback Training
1. Progression of Training ( Control the Mind, Control the Emotions, Control the Fundamentals)
a. Throwing Properly
i. Upper Half Fundamentals
ii. Base/Lower Body Fundamentals
iii. Finish/Follow thru and Extension
iv. Learning the Process of Throw and Kinetic Chain of Sequence
b. Drops
c. Routes
d. Routes with Pocket Movement
e. Progression Routes
f. Comfortable with Extended Play
g. Process of Position=Athlete-Fundamentals-Football IQ
Book this course.....
The Coach
Quarterbacks Coach Tony Racioppi
Coaching
· NFL/NFL Prep Quarterback Trainer/Coach at Test Football Academy
· Experienced NFL Pro Day Coach for Offensive Skill Players with Script
· One of Top Quarterback Instructors in the USA for College/HS/Youth for over 14 years
· Manning Passing Academy Quarterback Instructor (Only 40 HS Coaches in USA are invited)
· 14 Years as a Quarterbacks Coach at HS, NCAA level (Kean University/Temple University)
· 2 Years as NFL Offensive Intern/QB Coach for Jacksonville Jaguars (Training Camp)
· 1 year as NFL intern with Arizona Cardinals (Training Camp)/Offensive staff/Qbs/Personnel Department.
· Clinic Speaker all over USA on the Quarterback Position
· Offensive Coordinator/QB Coach for FCS Bowl in Daytona Beach, Florida featuring the best FCS/HBCU players in USA entering the NFL Draft.
· Offensive Coordinator/QB Coach at The Hun School of Princeton where we just were ranked as the #1 Prep Football Team in USA.
Playing
· 4 Years as Pro Quarterback
· All Conference Quarterback in both Arena League and Europe
· NFL Free Agent Quarterback (Jets/Dolphins)
· 2 Time All- American Quarterback at Rowan University
· Runner Up for NCAA Division III Player of the Year
· 2 Time ECAC, NJAC and Regional Offensive Player of the Year and 1st Team QB
· Still ranked in Top 25 Passers in NCAA History in Passing Proficiency
· NCAA All Divisions Record Holder in TDs in a quarter (5)
· Own nearly every single school and conference record
· 2 Time All State Quarterback at Ocean and Red Bank Regional HS.
· Still ranked in top 10 in NCAA History in Td Passes in a season (48)
Book this course.....