HBCU Football is Lit!! | Howard (DC) vs Bethune Cookman (FL)| #UTR Highlight Mix (Video below)
For any merchandise visit http://www.utrsportsmedia.com/shop/

Enter Code USSports and save 10% off the annual subscription
For Football Coaches, By Football Coaches
Howard drops home opener to Bethune-Cookman
From hubison.com:
Williams record four total touchdownsWashington, D.C. -- A Howard University fourth-quarter interception halted their comeback attempt versus the Bethune-Cookman University (B-CU) Wildcats, dropping their home-opener, 37-29, Saturday afternoon.

The Wildcats jumped out to a quick 14-0 lead and scored three first-quarter touchdowns to take a 21-7 lead into the second quarter.

Howard's true freshman quarterback Quinton Williams recorded his first start, recording three passing touchdowns and a rushing touchdown. Williams' three passing touchdowns are believed to be the most thrown for a true freshman in his first-ever start.

Williams threw his first touchdown, connecting with Damion Gillespie for a 6-yard pitch and catch.

The Wildcats took the ensuing kickoff 60-yards to the Howard three-yard line, hitting pay dirt four plays later to extend the lead, 21-7.

B-CU added a field-goal with 18-seconds left in regulations to take a 24-7 lead into intermission.

Howard came out of halftime on fire, cutting the lead 21-14 on a seven-play, 80-yard, in three-minutes cemented on a 24-yard touchdown pass to Thomas Vi.

Williams continues to show promise, as he took a naked bootleg around the end for a 12-yard touchdown to cut the lead 24-21.

Bethune-Cookman answered back with a nine-play, 72-yard drive capped off by a Wildcat rushing touchdown to push the lead, 31-21.

After Williams' interception, Bethune-Cookman put the game out of reach with a seven-play, 47-yard touchdown drive extending their lead 39-21.

Howard struck back with a 20-yard touchdown toss to Gillespie and a two-point conversion, brought the score to within one possession.

Howard onside kick failed, and the Bison was not able to stop the Wildcats from running out the clock, cementing the score 37-29.

Howard falls to 1-1 in conference place and 1-4 overall.
Now this from CoachTube Football!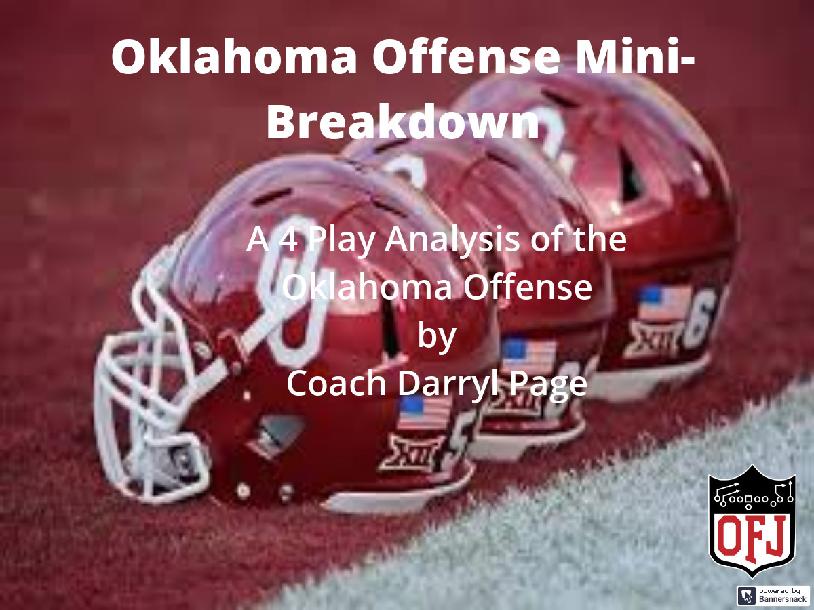 Description
A mini-breakdown (3 base plays) from one of college football's most exciting offenses!
Includes:
*Analysis and breakdown of the zone read of a 3 technique
*Analysis and breakdown of the counter (one of the "bread and butter" plays of the offense)
*Analysis and breakdown of the zone tagged with an RPO
Book this course.............
The Coach
Darryl Page
Founder: Offensive Football Junkies Facebook Group (OFJ)
Offensive Coordinator/QB Coach (West Florence HS/ Florence, SC *2014 North/South All-Star Coach (North)
Former Head Football Coach *2007 Shrine Bowl Offensive Coordinator
*Wilson High School/ Florence, SC (1993-2012) *14 State Playoff Teams
*Lower Richland High School/ Hopkins, SC (2012-2015) *3 Time State Semifinalist
Former Athletic Director
*Lower Richland High School (2015)
2007 South Carolina AAA State Champions
3 Time Region Coach of the Year (1996, 2003, 2005)
3 Region Championships
12 Time Florence City Champions
2007 SC Athletic Coaches Association Statewide Coach of the Year
2007 Statewide AAA Coach of the Year
2007 Florence Morning News Coach of the Year
Book this course.........