We took a few minutes with professional MMA fighter, undefeated Strawweight CFFC champion, & BBcom athlete Miranda Granger to ask about her journey and healthy habits to #getstrongertoday. (Video below)
► All Access 7-Day Free Trial: https://goto.bodybuilding.com/K397x
► BBcom Workout Clothing: https://goto.bodybuilding.com/WQyvO
► Shop Bodybuilding Signature Supplements: https://goto.bodybuilding.com/7kxzy
The 5 Best Conditioning Drills for Basketball
If basketball is your game, Team Bodybuilding.com athlete Myree Bowden has five favorite drills to help you improve your conditioning on the court.
Everyone wants the prettiest 3-point shot and the craziest handles on the basketball court, but if you're not in shape, none of that will do you much good come game time. In-season or off-season, conditioning should be a high priority for any hoopster. Naturally, you'll see improvements from running the court at team practices, but the best players put in the extra time on the hardwood and look for any opportunity to better their weak spots.
Team Bodybuilding.com athlete Myree Bowden knows a thing or two about basketball conditioning drills. He used them as a player—which included a stint with the Harlem Globetrotters—and now he uses them as a coach. It's one thing to love the game and have a passion for it, he says, but you need to develop discipline to do the harder work when there isn't a ball in your hands and no one is looking.
"The biggest thing I had to learn growing up and being an athlete is that you're not going to go out and play a game or compete at your tip-top ability if you don't get the repetitions in," Bowden says. "The more good reps you can get in, the more it's going to transfer over into your performance."
It can help to do these drills with a friend or with your whole team, but if you can push through on your own and hold yourself accountable, you're only going to become a better player for it. Don't cheat on the times, the distance, or the effort! Wind sprints and the mile run should be done twice a week with at least two days between repeating them. Your line drills, Super 17s, and defensive drills can be done 3-5 times a week.
Warm-up
Before each workout, warm up with the following dynamic stretching routine. Perform each movement for a full length of a basketball court, or 30 yards: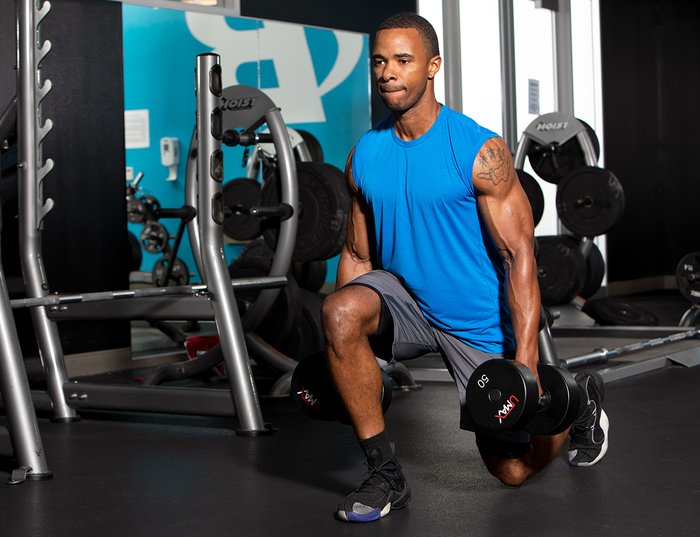 High knee

Butt kick

Drummer boy