Kelly Slater showed up to surf Haleiwa just as we got there with our camera gear. He makes it look too easy! [Video Below] Enter our monthly giveaway:
http://HoStevie.com/WIN
Music: Chris Malinchak - So Good To Me Shop:
http://hostevie.com/shop/
SUBSCRIBE FOR MORE SURFING VIDEOS:
https://www.youtube.com/subscription_...
Presented on US Sports Net By
CoachTube Extreme Sports!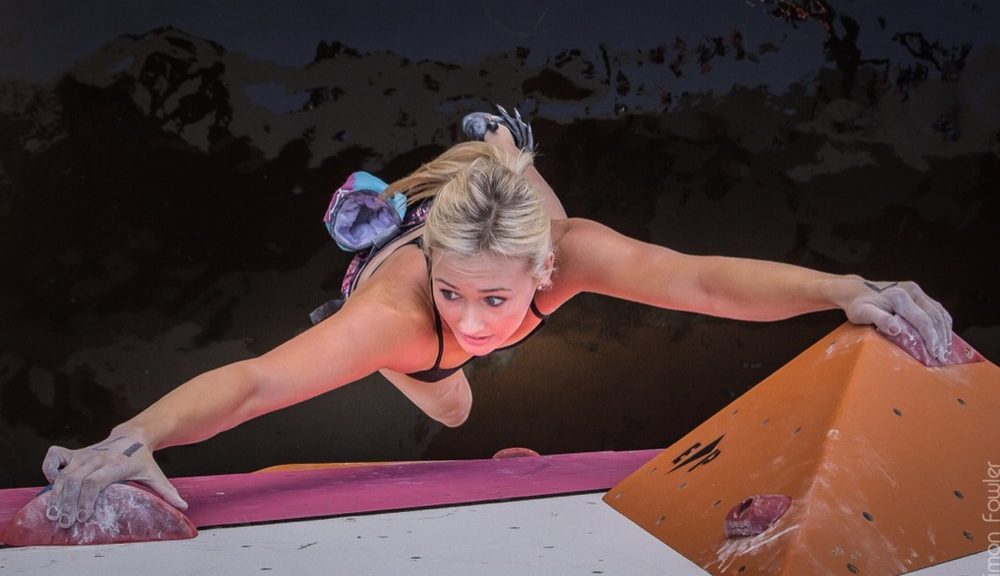 ---
She's not your average climber, nor is she is your typical model. In fact, Sierra Blair-Coyle has managed to be quite successful in each environment. While my last couple of interviews at
CoachTube
have focused on a few of the mainstream sports with
Shea Groom
in soccer and
Marcus Ginyard
in hoops, this one was slightly different. Although it's currently not on the level with some of those others, rock climbing is rapidly ascending. It takes a significant amount of physical strength, as well as mental fortitude. Interestingly enough, both of these traits are witnessed across many other sports. This is part of the reason why I always urge younger athletes to expand their boundaries and not center all their attention on one sport!
Rise of Climbing
When talking with Sierra, one thing I began to notice was the growth climbing has had. Not only has Sierra rose to the point where she has thousands of social media followers, but the sport is growing around the globe. In fact, the sport of climbing is attempting to get the nod to become an official sport in the 2020 Olympics. Whether or not the bid succeeds is questionable, but I believe it certainly reveals hope for the future. Through further research, I've learned the International Federation of Sport Climbing has proposed the Olympic event to be composed of three aspects: sport, bouldering, and speed.
A Little Background on Sierra
With over 300,000 likes on her Facebook page, it's clear Sierra Blair-Coyle has plenty of fans. This large growth in following has been a direct result of her willingness to interact fans and reach the upper ranks of the climbing community. In a sport that allows you to participate in some unique locations, fans are always looking forward to following along with her next endeavor. Back in 2012, NFL star Jacoby Jones described the Ravens' locker room culture by stating, "Work hard, be hungry and stay humble." Based on my knowledge of Sierra, I'd say she fits all three phases of this. She continuously trains rigorously to be the best she can. She knows there is more to come and the road doesn't stop now. Lastly, she isn't afraid to recognize how she got started and show respect to all those cheering for her. Just as the Ravens ended up reaching their final goal by winning the Super Bowl, I believe Sierra will go down as one of the most well-known climbers in the world.
INTERVIEW
I had a chance to catch up with Sierra and discuss how she got into climbing and where she sees the sport going in the future.
Brandon Ogle: How did you get started with climbing and when did you begin to realize that you wanted to work towards climbing professionally?
Sierra Blair-Coyle: I tried climbing for the first time when I was 8 years old at an outdoor mall by my house. I immediately fell in love with climbing and told my parents that I wanted to compete in climbing and become a professional rock climber! In a way, I always wanted to be professional. However, as time progressed and I continued to improve, I saw my dreams becoming reality.
BO: What does the normal training routine look like for a climber?
SBC: Everyone has a different training routine, and I know mine is constantly changing! I am always trying to tweak it to make it better. Right now, I climb 3 days on, take a rest day, then repeat the 3 day cycle. On 2 of the 3 climbing days I also strength train.
BO: Just as regular, consistent strength training is vital for climbers, so is the correct diet. Could you breakdown that aspect of your training?
SBC: My diet is simple, I eat fruits, vegetables, and lean meats!
BO: Since you are technically a student athlete at ASU with your climbing career, could you give our readers a picture of how you manage this busy lifestyle?
SBC: Luckily my senior year at ASU has been more manageable so far, but it is still a very busy time for me. I take as many online classes as possible and schedule my in-person classes on the same day or days. This helps me focus on climbing while also balancing school.
BO: Every sport has their own potential injury risks. What are some of the typical ones, as well as some more serious potential injuries, that climbers have to be aware of?
SBC: The main injuries in climbing are finger injuries because you are putting so much stress on them. Luckily, you can do many preventative exercises that help keep your fingers healthy. In reality, the majority of the injuries that climbers sustain are not life-threatening.
BO: Could you describe how your social media presence has enhanced your climbing career in terms of sponsorship opportunities, etc.?
SBC: Social media has been a fun way for me to show people my life and some of my adventures. I love being able to share what I am doing with people because I know how awesome it is when you find an inspiring person to follow on social media!
BO: Along with competing in rock climbing, do you or have you done in the past any other sports to complement your climbing aspirations?
SBC: I participated in other sports when I was younger, but climbing was always the sport that stuck for me!
BO: Despite climbing's recent growth, it still trails other mainstream sports, like football and basketball, in popularity. Do you envision it continuing to garner more and more interest from younger kids or even potentially becoming an Olympic sport?
SBC: I know climbing will continue to grow, which is exciting to see. So much has changed since I started climbing and I always enjoy seeing so many new people enter the sport.
BO: Every athlete understands the need to put all anxiety behind them when it comes time to compete. How do you stay calm in the moment, even when competing in a big event?
SBC: I treat a competition like it's another day in the gym. I want to do well of course, but I like to put myself in the mindset of where I am most comfortable, which is with my friends in Arizona. I think about how much fun I have sessioning with my friends and the hard problems we try and send. That is definitely my competition strategy, to just climb like I do when I am back home!
BO: Outside of the climbing community, who are some of your biggest inspirations from other sports?
SBC: At this point I admire all athletes, I know the hard work it takes to be on top of your game and I respect that.
BO: Lastly, in your own personal opinion, what would you consider to be the most enjoyable and most difficult aspects of climbing professionally?
SBC: Meeting people and seeing amazing places have been the most enjoyable aspects of climbing professionally. As far as the most difficult aspects, training can be draining! But you keep doing it because you love it and hard work is what makes you better!
I'd like to thank Sierra for participating in this interview and continue to wish her the best on her future aspirations.
Feel free to check out her: