CLICK HERE TO SEE THE WHOLE THING:
Follow along as Chennis Berry takes you through the same coaching points and fundamentals of playing offensive line that he uses to coach up his guys at the college level. Using whiteboard instruction and game film, Coach Berry takes you through the intricate techniques necessary for success when running the inside zone. Click the link above to watch the whole thing!
About this Course
Learn Inside Zone Techniques used by Coach Chennis Berry at Southern University.

Chennis Berry
Assistant Head Coach / Offensive Coordinator / Offensive Line Southern University
Follow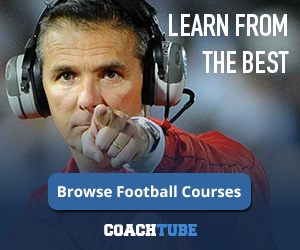 Chennis Berry was hired as the Assistant Head Coach/Co-Offensive Coordinator and Offensive Line Coach at Southern University in 2013. In his two seasons with the program, he has helped guide the Jaguars to two SWAC West titles and the 2013 SWAC Championship. Southern ranked seventh nationally in fewest sacks allowed in 2014 and led the SWAC in Red Zone efficiency. Individually, OL Dewayne Houston and WR Willie Quinn were each named All-Americans and First Team All-SWAC selections while QB Austin Howard was named the conference's freshman of the year.
In 2013, QB Dray Joseph earned SWAC Co-Offensive Player of the Year honors for his role in leading the Jaguars to their first conference championship since 2003. WR Lee Doss was named an All-American and First Team All-SWAC while OL Anthony Mosley received Second Team All-SWAC honors. Under Berry's direction, Joseph, Doss and Mosley combined to lead the SWAC in Passing Efficiency and earn a second place conference ranking in Passing Offense. Overall, Berry has 20 years of college coaching experience and has earned an excellent reputation for developing solid offensive lines while orchestrating rushing attacks that lead to record-breaking performances.
Over his career, Berry has also shown a willingness to expand his coaching knowledge. As part of the NFL's Minority Internship Program, Berry has interned with six different NFL teams, including the Jacksonville Jaguars, Indianapolis Colts, Cleveland Browns, Detroit Lions, San Diego Chargers and Chicago Bears. In 2009, he participated in the NCAA Expert Coaches Academy Forum. The program prepares young minority assistant coaches for head coaching positions.
A native of Cleveland, Berry came to Southern following two seasons as the co-offensive coordinator and offensive line coach at Howard University. In 2012, the Bison finished second in the MEAC with a 7-4 record which was the program's first winning season in seven years. The offensive line was key to the Bison's success as Howard finished 2nd in the MEAC with a 365.4 yards per game average. The Bison also were second in the MEAC in rushing with 221.5 yards per game average. These accomplishments led to four Howard offensive linemen earning All-MEAC honors (Josh Matthews, Davin Morris, Bradley Bush Johnson, and David Wilson). The offensive line also blocked for the MEAC's leading rusher, Terrence Lefall, who rushed for 1,200 yards in only eight games.