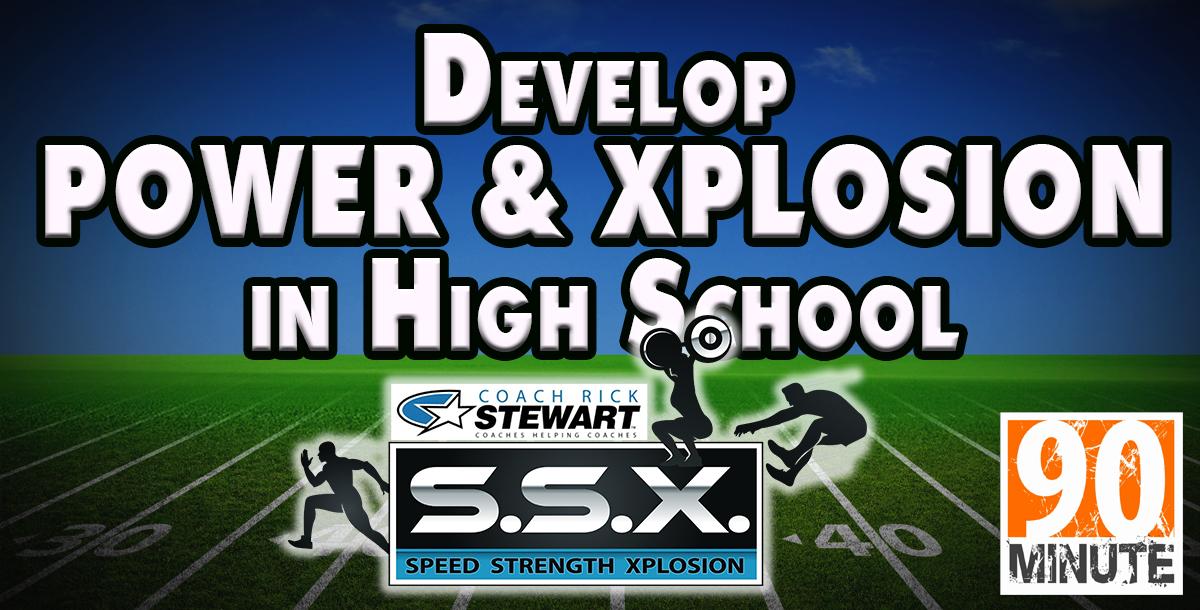 Description
A 52-WEEK PROGRAM FOR THE HIGH SCHOOL WEIGHTROOM
I have laid it all Out For You...
Day-by-Day...Week-by-Week
All You Do Is watch the video and Print Your Workout !
The 5 course contains every drill and exercise that you need to develop Championship Athletes.
YEAR ROUND PLANNING

\STRENGTH & CORE:

POWER & XPLOSION

SPEED, AGILITY, & CONDITIONING

WARMUP, FLEXIBILITY, & NUTRITION
Every video has a power point explanation from Coach Stewart interjected with the appropriate exercise. Everything is laid out by HOW MUCH, HOW OFTEN, and IN WHAT ORDER.

Coach Stewart discusses things that you should be thinking about as you decide how you are going to plan out our training program. They will talk about what should be your goals and your vision, so that you will understand the "why" behind the actual workout videos.
This course will cover:
Basic understanding of ATP energy systems

Why less is more, knowing when to stop, importance of recovery.

How to Build Explosive Athletes Year Round, In and Out of the Weight Room

How to Build Multi-Joing Strength - decreasing sprained ankles & damaged shoulders

How to Teach Power Clean

How to Teach Snatch

Video of Every Exercise filmed in Stewart's Weight Room

Order and Progression of Exercises for 2 four-week micro cycles

includes alternative exercises
The Coach
Coach Stewart has been a football coach for 27 years, 16 as a head coach, Stewart has been to 2 CIF Section Finals, and his 12-0 team lost the CIF championship on a hail mary pass in the rain.
He took three losing programs to playoffs.
Coach Stewart has turned around three different schools and led each team to the playoffs within his first two seasons at the helm. Since none of these schools had any scholarship players on their roster, Stewart's system gave his players a chance to be successful versus superior talent.
McFarland, a small, agricultural school of 600 students with no weight room, had lost 24 games in a row. Stewart served as offensive coordinator and they went 8-2 with only 3rd playoff berth in 75-yr school history

Stewart left McFarland for 3 years and they went 3-26 during his absence. He returned as head coach to make the playoffs in Year 2. (the Disney movie, "McFarland", starring Kevin Costner is the same town and school)

Broke 0-27 losing streak at Corcoran, a school with 900 students, winning an undefeated league title in Year 2;

Porterville, a large, rural school of 2,000 students, won 40 games in 5 years, including back-to-back section runner-ups at a that had won 8 games in the 5 years prior to his arrival.

Pennslyvania. Stewart went to a different state to coach a team that had went 3-7, 2-8, and 4-6. Stewart's team went 9-1 and was #6 in entire state in total offense. The school had only won 9 games twice: 1982 and 2009.
Stewart also has coached basketball, serving as AAU director for girls basketball in California and tutored seven girls to D-1 scholarships. He understands what coaches want and his company, ALL ACCESS COACHING, is all about helping the next generation of coaches. Book this course today!