It was an insane game between the two rivals, which ended up needing 4 overtimes to decide a winner.
Video from the Wheels Channel
CoachTube is about giving every athlete in the world access to the instruction, knowledge, and the motivation they need to grow and progress as athletes and students. We do this by providing access to online training from the world's best coaches. These lessons are available on-demand, so that students can learn when and where it's convenient for them. Learn more.......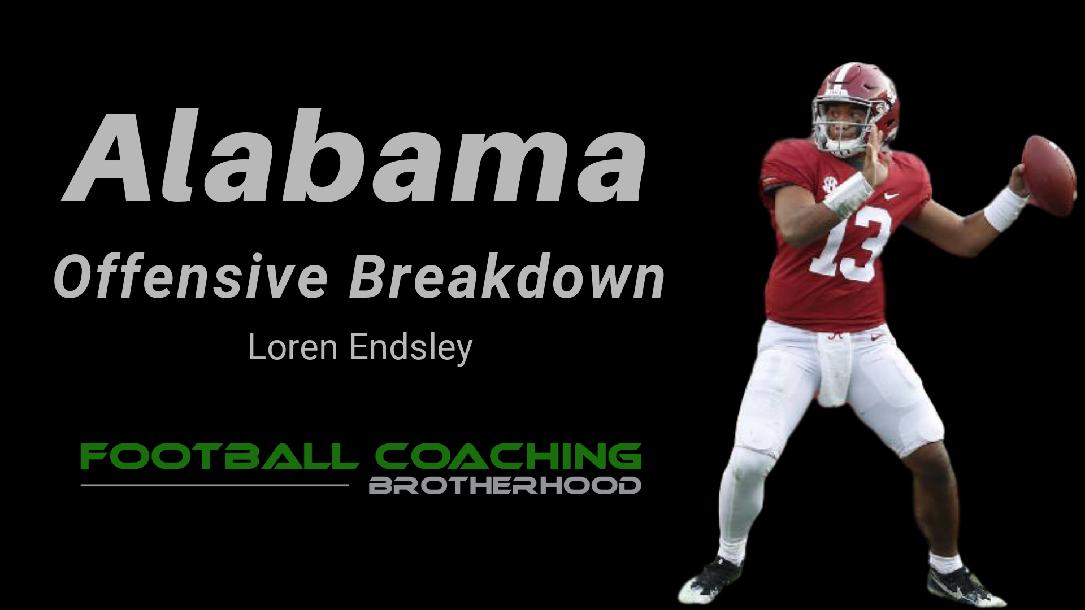 Description
Alabama Offensive Breakdown 2.0 is an in-depth study on the Alabama 2019 Offense and how Nick Saban has adjusted and modernized his offense.
Bama had one of the most talented and diverse receiving core in the nation and this course dives deep into how they used it within the Tide's offense.
While watching through the 2019 season it was surprising to find the different amount of trick plays that the Tide used as well as the amount of Spread Formations.
This is not the same 12 personnel run-heavy style that had been a staple of a Nick Saban team.
This study also takes an in-depth look into Bama's red zone tendency and schemes that they implemented to finish drives.
This Study will show an in-depth look into the Bama Offense with the use of All-22 Film.
You will learn...
Creative trick play concepts Alabama utilized that you can implement into your offense.

The use of unique formations that gave Bama the numbers and leverage to win before the snap.

A diverse run game focused on dominating the opposition with speed and power.

Alabama's goalline strategy used to maximize points and efficiency so that you can win both the long and short game.

How to enhance a diverse and deep wide receiver group so that it is a weapon of the offense.

Shot Concepts that Bama used break the will of opponents as they stretch the field vertically.
You will also see the detailed All-22 film from both the endzone and the sideline angles to help you better understand the whys and hows of each play and each player's individual technique.
This is a can't miss course that will help give you the strategies of the Top D1 offensive coaches at Alabama.
Grab both now and start your learning! Book this course.......
The Coach
Coach Endsley has experience as a High School Head Coach, Collegiate Offensive Coordinator, Run Game Coordinator, and Offensive Line Coach. While the Offensive Coordinator at Dakota Wesleyan University, Coach Endsley utilized a high level RPO System leading to one of the top passing attacks in the NAIA. As a High School Head Coach he utilized a similar system to break several school passing records.
At Dakota Wesleyan Coach Endsley shattered the school record for Total Yards & Passing yards in a game. Before Dakota Wesleyan, he also coached Offensive Line at Eastern Oregon University as well as being a Head Coach at the High School level at Lake Roosevelt High School, where his team broke several Offensive Records. Endsley has coached two AFCA All-American Offensive Linemen along with six All-Conference Offensive Linemen in both the Frontier Conference and the GPAC Conference. Along with that he was a Run Game Coordinator for a top-25 Rushing Team in the nation.
Coach Endsley Coaching Experience:
-Assistant Coach- University of South Dakota - 2020-Present
-Offensive Coordinator, OL/TE Coach |Dakota Wesleyan University| 2018-2020
-Offensive Line Coach |Eastern Oregon University|2017-2018
-Head Football Coach |Lake Roosevelt High School| 2015–2017
-NFL Combine Preparation Coach |APX Strength| 2015– 2017
-Offensive Line Academy |Complete Athlete|2015–2017
In 2018, Endsley's first year at Dakota Wesleyan, he coordinated an offense that ranked in the top-20 in total passing yards and broke the school single game record for total offense (822 yards), passing yards (510) and first downs (45). Endsley coached Trevor Wietzema, an AFCA All-American First-Team offensive lineman. In his first season, the Dakota Wesleyan offense featured six All-Conference players.
He coached an Offensive Line group that led Eastern Oregon University to top-25 offensive rankings in the NAIA, while coaching two All-Conference First-Team performers on the offensive line. Before coaching at EOU, Endsley was the head coach at Lake Roosevelt High School in Grand Coulee, Wash. He coached eight All-Central Washington First-Team athletes on offense and five All-Central Washington First-Team performers on defense.
Accomplishments & Accolades:
-NAIA National Top 20 Passing Yards Per Game 2018 |Offensive Coordinator- Dakota Wesleyan University|
-NAIA National Top 25 Rushing Yards Per Game 2017 |Run Game Coordinator-Eastern Oregon University|
-DWU Single Game Record for Total Offensive Yards: 822 Yards |Offensive Coordinator- Dakota Wesleyan University|
-DWU Single Game Record for Passing Yards: 510 Yards|Offensive Coordinator- Dakota Wesleyan University|
-DWU Single Game Record for First Downs: 45 |Offensive Coordinator- Dakota Wesleyan University|
-Coached AFCA All-American Offensive Line x 2
-Coached GPAC All-Conference Players x 8