The Iowa Barnstormers face off against the Sioux Falls Storm in a rematch of the 2018 United Bowl in Week 9!
Presented on US Sports Net By Total Gym
Barnstormers at Storm Game Preview
SIOUX FALLS, SD -
The Sioux Falls Storm (5-1) will host the Iowa Barnstormers (6-0) on Saturday, April 20 for a 7:05 PM kickoff the Denny Sanford Premier Center. Showtime will start at 6:45 PM.
The Storm look for redemption against the Barnstormers after losing their last two contests against them. The Storm and Barnstormers last faced on July 7, 2018 in the United Bowl where the Storm lost 38-42.
The Barnstormers are coming off a dominant performance last week, in which they beat the Bismarck Bucks on the road 55-16. The league-leading Barnstormers defense shined all night against the Bucks, forcing five turnovers. The defensive backfield were responsible for four of those turnovers. Defensive back Tyrell Pearson had two interceptions and fellow defensive back Jourdan Wickliffe recovered two fumbles. On offense, quarterback Daquan Neal led the charge, passing for five touchdowns and rushing for one.
The Storm were on a bye last week, but their last victory also came against the Bismarck Bucks, 64-31, on April 6. The only loss for Sioux Falls came against the only other undefeated team in the IFL – The Arizona Rattlers. The Storm are led by quarterback Lorenzo Brown Jr., who has thrown for 16 touchdowns and rushed for 10 in six games. His favorite target is receiver Brandon Sheperd, who averages a league-leading 71.7 yards per game. The Storm's defense will look to slow down a hot Barnstormers offense that average 52.2 points per game.
Individual Storm game tickets are on sale at the Premier Center Box Office or online through www.ticketnetwork.com.
Football Strength Conditioning and Skills Development resources from CoachTube.com and StrengthCoach.com.
Description
This is SECTION 3 of the Complete, 300-page playbook
EASILY go from 4-4 to a 4-2-5 to a 3-4 Defense !
Matches up with the READ and REACT videos on CoachTube.
Do Your Defenders "Spot Drop" and Just Guard Grass? Then you need to pattern read and have your defenders drop based on the receivers routes.
Can your Safety Play Robber in a 1-high

COVER 3

Look? The READ & REACT lets the Safety Rob in Cover 2, 3, and 4
Learn the "Mix-It" or "Palms"

COVER 2

. It is the hybrid between Traditional Cover 2 and Quarters Cover 4. THE BEST OF BOTH WORLDS!
Traditional Quarters

COVER 4

is ran out of a 4-2-5 and a 3-4 Alignment.
Learn 5 Different Coverages versus

Trips
Violent re-routes of the #2 receiver. Learn More....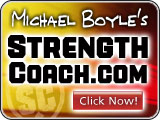 Unleash the Power of Plyometric "Combos"!
If you want to jump higher, run faster and become a more explosive athlete, then you want to give Plyometic Combos a try!
If you look at the movements involved in sports such as volleyball, football and basketball, you will find that athletes are required to jump, land and react continuously throughout the game. Sometimes you have to jump, land and then sprint. Sometimes you have to shuffle, jump and then shuffle again. I think you get the idea. Taking this into consideration, I have started to incorporate what I call "Combo Plyos" into my programs for advanced athletes. This doesn't mean that I have abandoned speed drills or traditional plyometrics. I just like to mix a couple sets of these in during a power phase to keep training fresh.
1. Hurdle Combo ( 3 six inch hurdles and 2 twelve inch hurdles)
Set the hurdles in a line about 2 feet apart with the 12 inch hurdles on each end and the 6 inch hurdles in the middle. To start, the athlete will have their shoulders perpendicular to the first 12 inch hurdle. They will start the drill by explosively jumping laterally over the first 12 inch hurdle. Immediately upon landing, the athlete will perform a lateral high knee chop over the 3 six inch hurdles. The athlete will then gather themselves, explosively jump over the last 12 inch hurdle and then immediately back over. They will then chop back over the six inch hurdles and perform the jumps at the end. Have your athletes perform 2 – 3 sets of going down and back twice over the hurdles. The focus should be landing soft on the big jumps, moving from speed to power quickly and vice versa and maintaining body control.
2. 5 point jump (5 cones)
Join Strengthcoach.com today to keep reading, access all articles, videos, and coaches forums......