Train now for a better swing next spring and summer.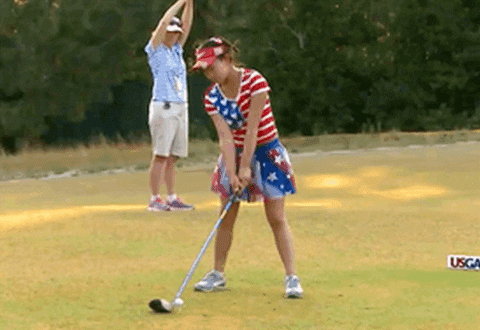 Golf
The Golf Programs are designed for those wanting to achieve fitness, and, to improve their performance on the golf course! Millions of people enjoy playing golf and what better way is there to get in shape than to perform an exercise program that takes into account the specific movements and physical demands of the great game of golf.
The first available golf workout is our
"Dumbbell Golf Program"
. This program can also be done just about anywhere! It is an excellent program for those who want more physical development and wish to train at home. Training with dumbbells requires more balance and control to perform the required exercises. It also enhances functional strength development for injury prevention.
The second available golf workout is our
"Health Club Golf Program".
This program requires the use of a fully equipped gym but will help achieve fitness goals quicker and in many instances will give the best performance increases!
The final golf program is our
"No Equipment Golf Program"
. This program will be for those who can't make it to the gym, or simply want to work out at home with no equipment required.
All of our Golf Programs will add more distance and more consistency to any golf game!
Select a Program
After you click on the desired program enter the program name in the 'Sport/Fitness Goal' box of the Fitness Profile Form
Week 1 - Day 1 (Monday) of Sample Program
Week Difficulty: Medium
View Printer Friendly Version
Printer Friendly Version, Exercise Descriptions and Some Videos Are Available Exclusively In The Fully Registered Versions Of Your Programs. Click Here To Register and Get Your Custom Program Designed For You Today




Click on an Exercise Name to view a description of that exercise




Select
Exercise Name
Set and Rep Combinations
1

Warmup and Stretch
2
Straight Arm Back Extension and Squeeze
3
Lying Cross Body Floor Extension
4

Theraband Rotators (all positions)
5
Leg Press (45 Degree)

| | |
| --- | --- |
| 18 reps @ 280 lbs, | 15 reps @ 310 lbs |

6
Machine Leg Extensions

| | |
| --- | --- |
| 15 reps @ 80 lbs, | 10 reps @ 75 lbs |

7
Machine Leg Curl

| | |
| --- | --- |
| 15 reps @ 70 lbs, | 10 reps @ 60 lbs |

8
Dumbbell Military Press

| | |
| --- | --- |
| 15 reps @ 30 lbs, | 15 reps @ 25 lbs |

9
Dumbbell Lateral Raise

| | |
| --- | --- |
| 15 reps @ 15 lbs, | 10 reps @ 14 lbs |

10
Dumbbell Rear Lateral Raise

| | |
| --- | --- |
| 15 reps @ 12 lbs, | 10 reps @ 11 lbs |

11
Dumbbell Triceps Kickback

| | |
| --- | --- |
| 15 reps @ 11 lbs, | 10 reps @ 10 lbs |

12
Standing Toe Press

| | |
| --- | --- |
| 20 reps @ 95 lbs, | 15 reps @ 105 lbs |

13
Barbell Standing Forearm Flexion

| | |
| --- | --- |
| 15 reps @ 30 lbs, | 10 reps @ 25 lbs |

14
Dumbbell Seated Forearm Extension

| | |
| --- | --- |
| 15 reps @ 5 lbs, | 10 reps @ 5 lbs |

15
Reverse Crunches
16
Cross Crunches
17
Plate Twists

| | |
| --- | --- |
| 15 reps @ 15 lbs, | 10 reps @ 10 lbs |