TOMORROW

: First Playoff Game!
The seeds for the 2014 League Championship Series are as follows:
#1 - BETHESDA BIG TRAIN
#2 - Baltimore Redbirds
#3 - Rockville Express
#4 - Gaithersburg Giants
#5 - Alexandria Aces
#6 - Youse's Orioles
The Express will host the Orioles at
7:00
and the Giants will host the Aces at
7:00 today
. Both games will be single elimination.
After the winners of today's games are decided, the teams will be re-seeded and the Big Train will host the lowest remaining team while the Redbirds will host the higher seed. Both of those games will take place
Tuesday
night.
On Wednesday
, the winners of the two
Tuesday
games will play each other while the losers will match up as well. Both games will be played at the higher seeded team. By virtue of the Big Train's #1 seed, this guarantees a
Wednesday
night home game as well.

Final Montgomery Cup Results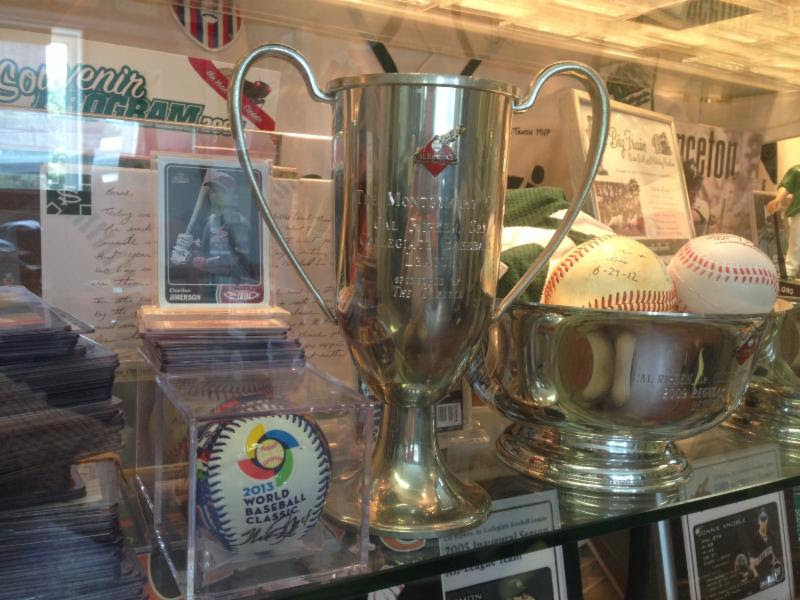 The Bethesda Big Train team has won the 2014 Montgomery Cup. The winner of the Montgomery Cup is the team with the best record in regular season head-to-head competition among the four Montgomery County teams in the Cal Ripken Collegiate Summer Baseball League. The Montgomery Cup is sponsored by the Gazette newspapers. The Gazette also provided advertising and made donations to all four of the teams.
With this victory, the Big Train team has either won the Montgomery Cup or shared first place in nine out of the past ten seasons.
The final standings for the 2014 Montgomery Cup competition are as follows:


| | | | | |
| --- | --- | --- | --- | --- |
| TEAM | W | L | % | GB |
| | 31 | 9 | .775 | - |
| | 25 | 15 | .625 | 6 |
| Rockville Express | 24 | 16 | .600 | 7 |
| Gaithersburg Giants | 23 | 17 | .575 | 8 |
| Alexandria Aces | 23 | 17 | .575 | 8 |
| Youse's Orioles | 18 | 22 | .450 | 13 |
| Vienna River Dogs | 12 | 22 | .450 | 13 |
| | 17 | 23 | .425 | 14 |
| D.C. Grays | 15 | 25 | .375 | 16 |
| | 13 | 27 | .325 | 18 |
| | 13 | 27 | .325 | 18 |