Big Train Fall To Redbirds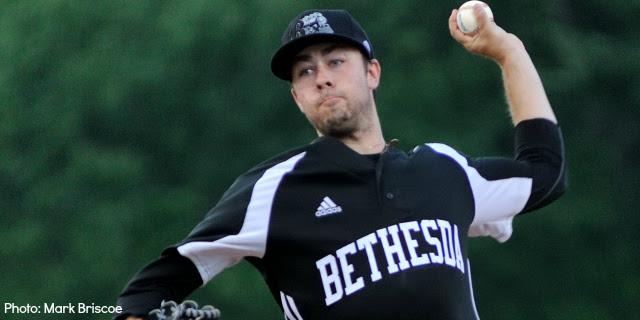 On Monday
night, the Bethesda Big Train looked to get back on track after losing the night before as they traveled to Baltimore to play the Redbirds.
Henry Sisson
(North Carolina) -- pictured above -- got the start and went six innings, giving up five hits and three earned runs against six strikeouts. The Big Train lost 4-3, and have their first two-game losing streak of the season.
The Big Train opened up the scoring in the top of third. Logan Farrar (Virginia Commonwealth) hit a sacrifice fly to score Andrew Brown (San Diego State). Later in the inning, Brandon Lowe (Maryland) singled and scored Tony DiLeo (Eastern Michigan) to make the score 2-0 Big Train.
The two run lead was safe until the Redbirds scored two runs in the bottom of the 7th. And in the bottom of the 8th, the Redbirds tacked on two more runs to give them a 4-2 lead.
In the 9th inning, the Big Train looked to rally and make a comeback but were unable to and only scored one run in the top of the 9th.
Notes:
Cody Brown
(Mississippi State) had two hits...Come out
Tuesday
night to see the Herndon Braves take on the Big Train at Shirley Povich Field.

NPR's Weekend Edition ran a piece
Sunday
on the fading art of baseball score keeping-and told the story through the words of people at a Bethesda Big Train baseball game.
Don Gonyea
, NPR's national political correspondent, put campaigns and elections aside for one night and reported on baseball spectators and officials who chronicle every pitch and play. Gonyea interviewed Big Train founder
Bruce Adams
; his wife, author and playwright
Peggy Engel
; and official scorer
Glenn Orlin
-all three of whom know a thing or two about baseball.
| | | | | |
| --- | --- | --- | --- | --- |
| TEAM | W | L | % | GB |
| | 18 | 3 | .857 | - |
| | 12 | 8 | .600 | 5.5 |
| Rockville Express | 13 | 9 | .591 | 5.5 |
| Alexandria Aces | 12 | 9 | .571 | 6 |
| Vienna River Dogs | 9 | 10 | .474 | 8 |
| Herndon Braves | 9 | 10 | .474 | 8 |
| Youse's Orioles | 10 | 12 | .455 | 8.5 |
| | 10 | 12 | .455 | 8.5 |
| | 9 | 14 | .391 | 10 |
| | 8 | 13 | .381 | 10 |
| | 6 | 16 | .273 | 12.5 |