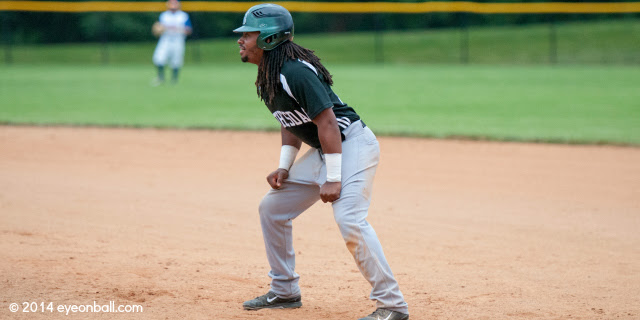 The Bethesda Big Train came from behind two times to knock down the Baltimore Dodgers, 3-2, in 11 innings
on Thursday
night.
Jake Valdez
(St. Mary's College (CA)) got the start for Big Train, pitching five innings, giving up three hits and one earned run, while striking out an outstanding seven batters.
Ray Lambert
(Cal State Northridge) pitched the last four innings for Big Train, and only gave up one hit, while striking out six batters.
Luis Collazo (Virginia Tech) also pitched for the Big Train, striking out three batters in two innings of work. The pitching staff dominated the game giving up a mere six hits, and two runs, striking out 16 batters in 11 innings.
While the pitching was great, the offense had to come from behind twice in order to pull out this tough victory. The Dodgers started the scoring in the bottom of the 4th inning, and it was not until the 6th inning that Big Train was able to cross home plate for the first time.
With one out in the top of the 6th, Logan Farrar (Virginia Commonwealth) singled, advanced to second on a wild pitch, and moved over to third on a sacrifice by Ryne Willard (N.C. State). With Grant Brown (Tulane) batting, the Dodgers pitcher threw a wild pitch and Farrar crossed the plate to tie the game at one a piece.
Down 2-1 in the top of the 9th, Big Train needed a big inning. Andrew Brown (San Diego State) singled and drove home Sean Labsan (Florida Atlantic) to tie the game at two. Ray Lambert was able to set down the Dodgers in order in the bottom of the 9th to go to extra innings.
Sean Labsan and Tony DiLeo (Eastern Michigan) both walked to begin the 11th inning, and things started to look positive. Andrew Brown hit a sacrifice to advance the runners to second and third. On the first pitch he saw, Farrar singled home Labsan for what ended up being the game winning RBI and only lead of the game for Big Train. Once again, Ray Lambert shut down the Dodgers in the bottom of the 11th, striking out two batters, to give the Big Train 3-2 victory.
Notes:
Logan Farrar
led the team with two hits....
Johnny Cole
(Coastal Carolina) and
Tony DiLeo
each walked twice and
Sean Labsan
walked three times... Big Train is now 2-0 on the season and looks to continue their win streak against the Vienna River Dogs in their home opener
on Friday
.

| | | | | |
| --- | --- | --- | --- | --- |
| TEAM | W | L | % | GB |
| | 2 | 0 | 1.00 | - |
| | 2 | 0 | 1.00 | - |
| | 2 | 0 | 1.00 | - |
| | 1 | 0 | 1.00 | .5 |
| | 1 | 1 | .500 | 1 |
| | 0 | 1 | .000 | 1.5 |
| | 0 | 0 | - | 2 |
| | 0 | 1 | 0.00 | 1.5 |
| | 0 | 1 | 0.00 | 1.5 |
| | 0 | 2 | 0.00 | 2 |
| | 0 | 2 | 0.00 | 2 |