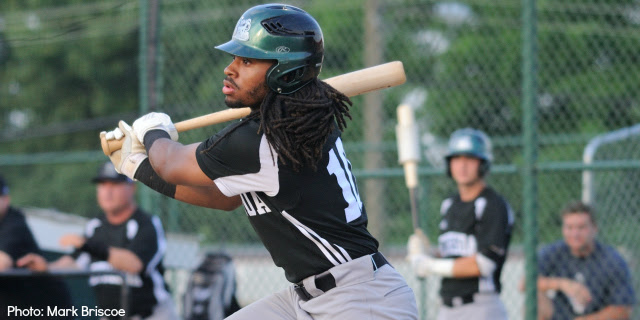 On Friday evening in Baltimore, the Bethesda Big Train played the Baltimore Dodgers in a game of first place vs. last place. The Big Train won the game 3-1 and are now 11-1 on the season. Sean Labsan (Florida Atlantic) got his second start of the season for the Big Train and pitched five innings, giving up one run, while striking out seven batters.
The Baltimore Dodgers scored the first run of the game against Labsan off four hits in the 1st inning. Despite a tough first inning for Labsan, his next four were magnificent. He only gave up one hit and struck out six in four scoreless innings
Kevin Tatum (Cornell) doubled to start the scoring for the Big Train. After advancing to third, Stephen Alemais (Tulane) grounded out, scoring Tatum. The Big Train scored their second run of the inning on an RBI single by Logan Farrar (Virginia Commonwealth), his 12th RBI of the season, giving the Big Train a 2-1 lead.
The Big Train made the score 3-1 in the 6th inning when Logan Farrar scored on a sacrifice fly hit by Johnny Cole (Coastal Carolina), after doubling to lead off the inning.
There were no more runs scored in the game as the Big Train bullpen once again kept the opposing batters quiet
Come out Saturday Night against the Youse's Orioles for Bobble Head Night. First 500 fans will receive a Cal Ripken Jr. Bobblehead.

| | | | | |
| --- | --- | --- | --- | --- |
| TEAM | W | L | % | GB |
| | 11 | 1 | .917 | - |
| | 8 | 3 | .727 | 2.5 |
| | 8 | 5 | .615 | 3.5 |
| | 7 | 6 | .583 | 4.5 |
| | 4 | 4 | .500 | 5 |
| | 6 | 7 | .461 | 5.5 |
| | 4 | 5 | .444 | 5.5 |
| | 6 | 8 | .429 | 6 |
| | 4 | 6 | .400 | 6 |
| | 4 | 8 | .333 | 6.5 |
| | 1 | 11 | .083 | 10 |