TODAY: Championship Final!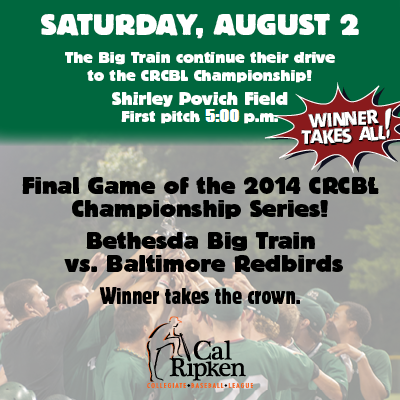 After defeating the Baltimore Redbirds on Friday afternoon at Criswell Automotive Field in Gaithersburg, the Big Train force a final winner-take-all championship game to be played at Povich Field at 5:00 today!
Due to a high chance of severe weather on Saturday night, the game has been pushed up to 5:00.
We look forward to seeing everyone out at Povich today as the Big Train look to win the 2014 CRCBL Championship! Tickets for today's game can be
purchased here.

Big Train Advance to
Winner Take All Battle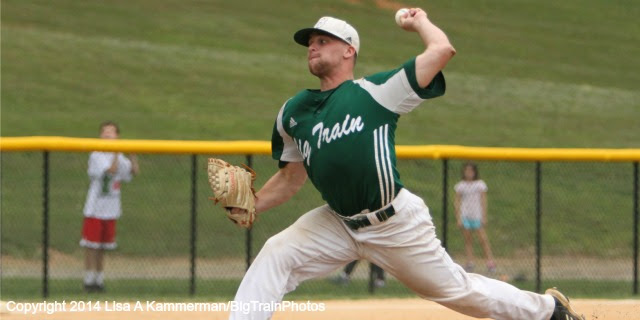 On Friday afternoon, the Bethesda Big Train traveled to Gaithersburg to face the home-standing Baltimore Redbirds. If the Redbirds won, they would have been champions, but the Big Train pulled out victorious in an excellent 2-1 ball game. Bo Logan (Florida Atlantic) pitched a complete game and Andrew Brown (San Diego State) recorded the only two RBI in the late inning thriller.
Bo Logan toed the rubber to begin the game and stayed on the mound for all nine innings, allowing only one run on a slim three hits. Logan was tremendous, consistantly hitting both sides of the plate for strikes. While switching from off-speed to fastball with ease, he was keeping the Redbird hitters on their toes, dominating the game, tossing only 109 pitches.
The Redbirds scored one run on two hits in the 4th to take a 1-0 lead.
It was not until the 7th inning that the Big Train tallied their second and third hits of the day. Andrew Brown knocked home Brandon Lowe(Maryland) on a single to tie the ballgame at 1-1. As the Big Train crowd of around 100 cheered on the team, the momentum seemed to have shifted onto Big Train's side, heading into the bottom of the 7th.
In the top of the 9th, with the score still tied at one apiece, the Big Train finally reached into the Redbird bullpen. On a 2-1 count, Chris Lewis(Sacramento State) lined a double down the third base line to put the Big Train in a great spot with no outs in the 9th. Andrew Brown then singled up the middle, and a hustling Lewis slid in ahead of the tag, breaking the tie and giving the Big Train a 2-1 lead.
The big question going into the bottom of the 9th was whether a closer would come in the game or if Bo Logan was going to go the distance. Logancame out and quickly retired the batters in order, ending the ballgame for a complete game, three-hitter.
The Big Train will face the Redbirds again on Saturday.

| | | | | |
| --- | --- | --- | --- | --- |
| TEAM | W | L | % | GB |
| | 31 | 9 | .775 | - |
| | 25 | 15 | .625 | 6 |
| Rockville Express | 24 | 16 | .600 | 7 |
| Gaithersburg Giants | 23 | 17 | .575 | 8 |
| Alexandria Aces | 23 | 17 | .575 | 8 |
| Youse's Orioles | 18 | 22 | .450 | 13 |
| Vienna River Dogs | 18 | 22 | .450 | 13 |
| | 17 | 23 | .425 | 14 |
| | 15 | 25 | .375 | 16 |
| | 13 | 27 | .325 | 18 |
| | 13 | 27 | .325 | 18 |