WIAA Modifies 2020-21 Sports Season Calendar as football begins in March

Presented on US Sports Net by Game Planner Pro!
Enter Code USSports to save 10% off the annual subscription. For Football Coaches, By Football Coaches Learn More...
Winning in a World Without Barbells: How to run a successful Strength and Conditioning Program for your team during the shut down
by Eric Dagati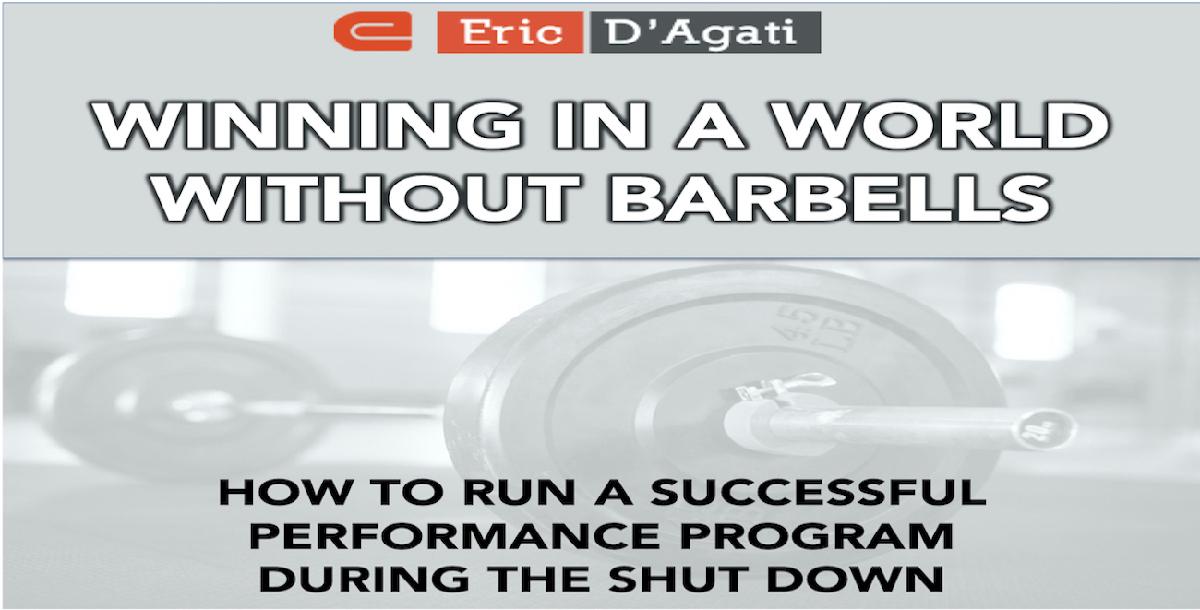 Description
Due to the Coronavirus pandemic, schools worldwide have been shut down, gyms have been closed and safety guidelines prohibit athletes from working together in their training. Coaches are now scrambling for solutions to help keep their players active, healthy and prepared for their sport once they allowed to resume normal activities.
In "Winning in a World Without Barbells", we offer solutions for home programming for athletes that requires little to no equipment that will not only maintain, but help build strength, power, athleticism and durability. The program includes easy to follow workouts with links to instructional videos for each exercise, as well as recommendations for conditioning, nutrition, recovery and home exercise equipment.
This program also includes an introductory Zoom session with you and your team to install the program and answer any questions. Contact eric@onehumanperformance.com to book your appointment once you purchase the program.
"The Winning in a World Without Barbells program has given our program a clear plan for how to maintain the gains we made in the weight room this winter! It has been easy for us to manage as coaches and was fast to get rolled out to our kids. Thanks to Coach D'Agati!" - Lou Zampella & Chris Johnston - Hudson Catholic Football. Book this course.............
The Coach
Eric D'Agati has spent the past 20+ years in the fitness industry as a coach, trainer and instructor, pioneering his unique approach to client assessment, performance enhancement and injury prevention. Each year, Eric travels around the world teaching and speaking to trainers, coaches and therapists from such prestigious organizations as Functional Movement Systems, Mt. Sinai Hospital, New York University Medical, Navy SEALS, US Army, NJAHPERD, NJSIAA, Nike and SPARQ Camps, Frank Glazier Clinics, The Mayo Clinic and multiple major universities. Eric also appeared in the NY Times bestseller "The 4-Hour Body" by Tim Ferriss.
His list of training clients includes individuals who have been an Olympic Gold Medalist, Gatorade and NJ Players of the Year, All-Americans, National Champions, World Series Champions and Pro-Bowl athletes. Eric also serves on the Advisory Board for On Base University, The Baseball Health Network and the Raritan Valley College Exercise Science Department. Book this course............