DO YOU WANT TO BE RECRUITED??? Do you want college coaches calling and showing interest in you? Well.... Come join STREET LIGHT RECRUITING Today!! WE are YOUR Jerry MaGuire! Our Football database of over 24,000 college coaches will be evaluating you when you sign up with us at Street Light Recruiting!! CONTACT US TODAY!!
WEBSITE: www.StreetLightRecruiting.com

Presented on US Sports Net by Game Planner Pro!
Enter Code USSports to save 10% off the annual subscription. For Football Coaches, By Football Coaches Learn More...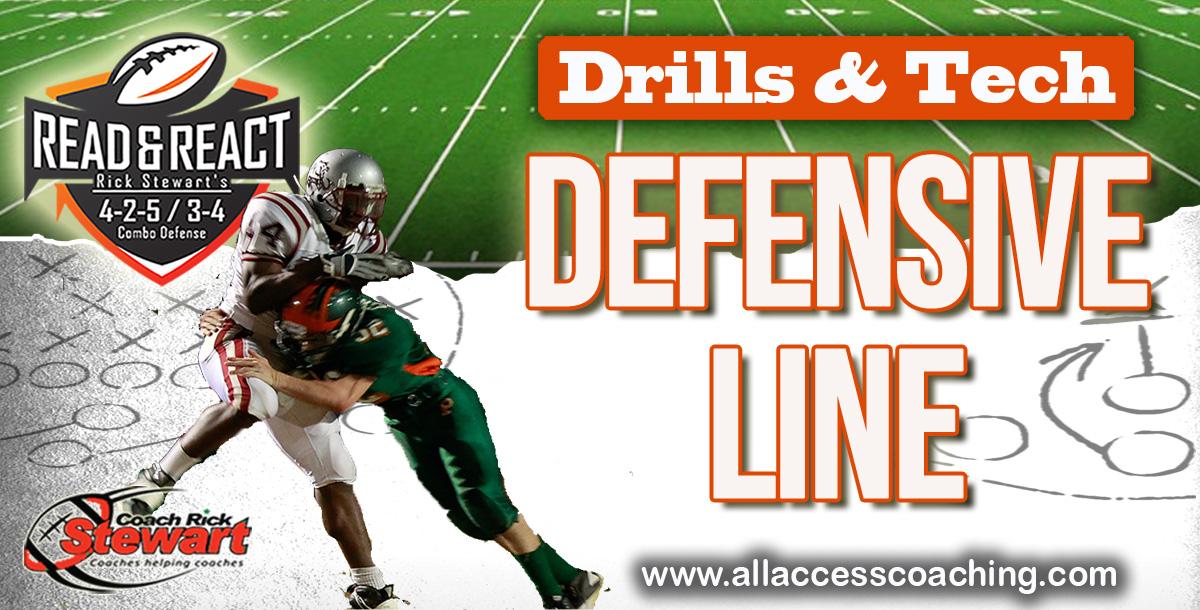 Description
This is CHAPTER 9 of the Complete, 300-page playbook
EASILY go from 4-4 to a 4-2-5 to a 3-4 Defense !
Matches up with the READ & REACT videos on CoachTube.
DISCLAIMER: This is not a downloadable product. To order a printed, bound hard copy, please visit www.allaccesscoaching.com
DEFENSIVE LINEMEN (24 pages)
Philosophy leads into the 9-step progression of what a D-Lineman must master on every play:
(1) Pre-Snap Plan; (2) Alignment; (3) Stance; (4) Get-Off; (5) Hands; (6) Lock and Separate; (7) Escape; (8) Pursuit; (9) Tackle
There are 13 different techniques to use against Run Blocks that are explained in great detail. Then the manual describes the techniques to use versus:
--> DRIVE, DOWN, and REACH BLOCKS vs 0, 1, 2i, 2, 3, 4i, 5, 6, and 7 technique
--> TRAPS and KICKOUTS
--> DOUBLE TEAMS and SCOOPS
The next secion is STIMULUS-RESPONSE versus all the above mentioned blocks.
3 pages detailing pass rush techniques
Over 30 drills to use during your INDIVIDUAL sessions, followed by drills to do in group sessions
Book this course..........
The Coach
Coach Stewart has been a football coach for 27 years, 22 at the high school level including 16 as a head coach. He took three losing programs to playoffs.
--> Won 9 games with a Pennslyvania team that hadn't won 9 games since 1982 and had only won 8 games in 5 years
--> Won 40 games in 5 years, first playoff win in 100-year school history, and back-to-back section title games at school that had won 8 games in 5 years
--> Took 0-27 Corcoran to undefeated league title in his second season. Coaching staff remained after Stewart left and won 3 consecutive section titles
--> During his absence, McFarland went 1-19. Stewart led them to their 4th playoff in 2004. This was McFarland's last winning season
--> Took 0-24 McFarland team to its 3rd playoff in 75 years in 1999. (Stewart took a 3-year hiatus after that season)
Stewart also has coached basketball, serving as AAU director for girls basketball in California and tutored seven girls to D-1 scholarships. He understands what coaches want and his company, ALL ACCESS COACHING, is all about helping the next generation of coaches.
Book this course......