Getting to know the company that helps you "fix yo sh!t".
Poway, California
Nestled in the town of Poway sits a home that one may call a California dream. It's surrounded by thriving plants and greenery, trees plump with ready-to-pick citrus fruits and comes equipped with horse stables and chicken coops. For a 10-year resident of New York City, this place was, in the least number of words, a breath of fresh air.
What's not so typical about this hidden oasis is the completely renovated garage turned studio, where Dr. Mike Wasilisin and his team of creators and marketers bring to life some of the most entertaining and educational content sweeping social media. We had the chance to step foot into their world of magic for a few days and got to know some of our favorite creators.
Q: Tell us a bit about MoveU. Who are you and what is your mission?
A: Hi there! We're MoveU, the weirdest and most entertaining body mechanic and movement Instructors on the Worldwide web. Founded and led by Dr. Mike Wasilisin, a Sports Chiropractor who broke out of traditional healthcare, we are on a mission to help the world move better to live better and do so through funny, memorable content. Our tagline is "fix yo sh!t" because after all, it's your body and nobody is going to fix it for you but YOU.
Q: How did MoveU come to be? How has it evolved since starting?
A: After working in the healthcare system and seeing how it fails to address chronic pain, Dr. Mike decided to take matters into his own hands by creating MoveU. Here people can learn how easy it is to fix their sh!t so they don't have to rely on band-aid solutions. We've evolved since starting as we aim to provide entertaining and educational social media content, yet our product has developed from a single online program with a Facebook community to an all-in-one Android and IOS app that allows you to search for videos and programs to fix every area of the body.
Q: What are the main goals you keep in mind when creating new content for the consumption of millions?
A: We aim to be as funny and viral as possible while simultaneously educating the masses. Because of this, we often lean into trends and our Team's weird sense of humor to help us deliver the heart of our messaging in ways the World has never seen. After all, we want to get the point across to as many people as possible so making it as fun and integrous is always the main goal.
Q: Who would you say your content caters to the most?
A: As cliche as it sounds, our content caters to all adults with a moving body with a good sense of humor! After all, if you have an able-body you need to learn how to move it more effectively and efficiently to be pain-free, avoid injury, and ultimately, do the things you love.
Q: What makes MoveU unique to others within the space?
A: We're anything but ordinary or boring and unfortunately, this space is littered with monotone information. Why not make education fun, exciting, and memorable content instead? That's what we're after!
Q: Give us some insight into the magic behind the lens. Who's bringing all of this to life?
A: Our creative sessions are often done between the hours of 10pm and 3am in the morning by Doctor Mike. He's blasting Pink Floyd and jotting down concepts about pain, body mechanics, etc. Those ideas are then brought to our marketing Team where we finesse them into virality. There's quite a bit that goes on behind the scenes- lol.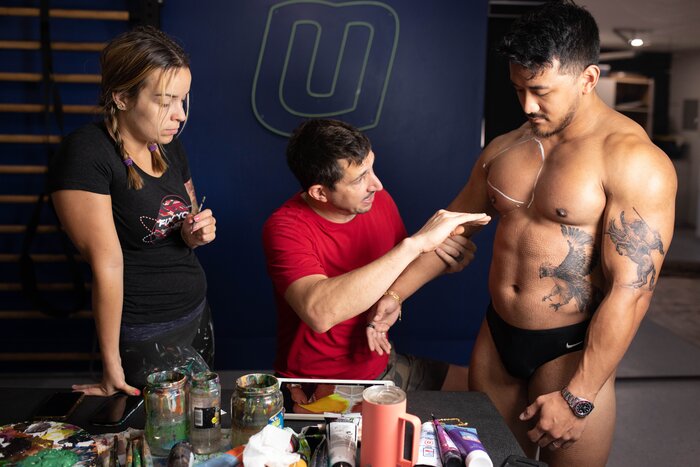 Q: What's next?
A: We officially (as of October 3rd) launched our MoveU App to help the world fix its aches, pains, and postural imbalances. In this next phase, we're hoping to make a wave in healthcare as the first line of defense before someone seeks surgery or other invasive procedures. We hope to see you all there!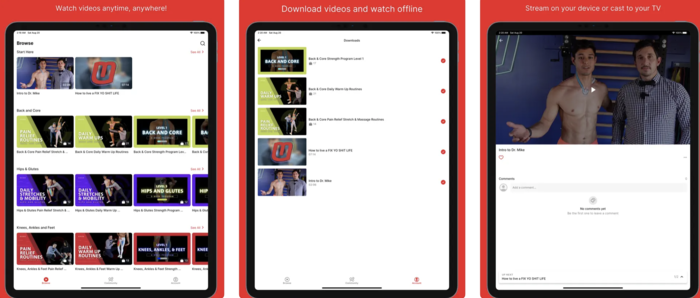 Follow MoveU on Instagram for a daily dose of tips and be sure to download, "Move U App", launching October 3.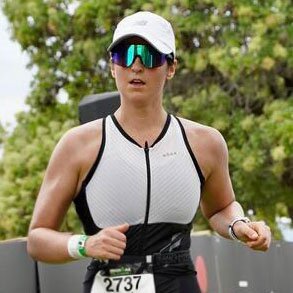 Danielle Bitts is a writer, producer and above all, athlete. She's a New York City-based certified personal trainer, performance nutrition specialist and plant-based triathlete.
Live Streams and Breaking Sports News!