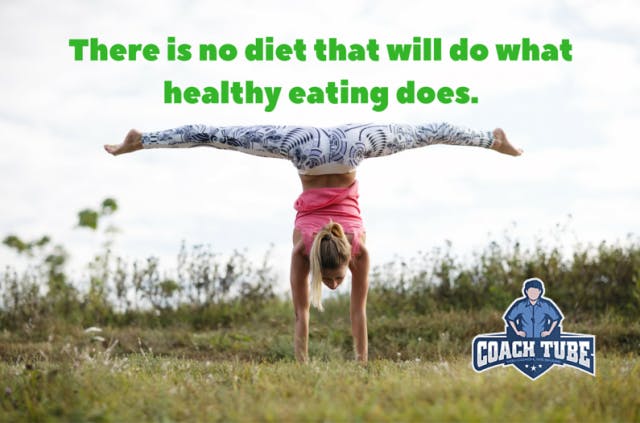 ---
Countless athletes approach their diet with an "I can eat whatever I want to because I workout" attitude and adherence to gymnastics nutrition principles is no different. The biggest problem with this recklessness is it's nearly impossible to eat right just by chance. The other side of the coin presents the opposite approach, "I must avoid weight gain at all costs." This reaction to the fear of weight gain totally dismisses the nutritional importance of food and can create a whole host of other physical, psychological and emotional problems. Neither is optimal for becoming your best or your health.
Where body fat composition plays an important role in an athlete's level of success in most sports, it is critical for gymnasts because of the favorable strength to body weight ratio needed to compete. Maximizing lean body mass while keeping body fat composition to a minimum can be quite a challenge. A scientific plan of attack trumps a "just wing-it" attitude in your pursuit of optimal gymnastics nutrition. I see many Austin gymnastics programs that put the gymnast first and others that put results in front of the young gymnastics student. The following recommendations are a starting point to reaching your peak performance as it relates to nutrition and gymnastics.
Hire a sports nutritionist to optimize your dietary intake for gymnastics.
A sports nutritionist is just as important to your level of success as the coach you hire to train you. Having a dietary plan mapped out for you is recommended in order to meet your specific athletic and health needs. A well-designed, written out individualistic approach will consider your workout schedule: frequency, intensity, length of workout and workout recovery; your "game day" plan; as well as, the gymnastic events in which you compete. These important details will affect the calorie count and composition that your nutritionist with prescribed. Follow it closely. This delicate balance of fueling your body for the anaerobic competition that gymnastics requires, but not to the point of storing body fat, will strongly influence the outcome of your individual performance.
Steer clear of eating disorders that gymnasts can potentially fall into.
Anorexia, bulimia and excessive dieting are serious concerns in young gymnastic athletes. Some estimate that as many as half of all young gymnasts suffer from an eating disorder. If you suspect this is a problem, consult your healthcare provider as soon as possible. Treatment for severe cases may require hospitalization. Nutritional counseling, psychotherapy, antidepressant drugs, as well as other treatments are typically used in less severe cases. Your physician, sports nutritionist and/or sports psychologist will help get matters under control so that you can become the athlete you are training so hard to become.
Minimize or eliminate sugar.
Calories are at a premium, you have to make each one work for you, not against you. Although carbohydrates are needed to fuel the explosive anaerobic needs of any event in gymnastics, they should come from nutrient-dense, real foods such as fruits, vegetables and tubers. Sugar-containing foods lead to energy crashes, a non-hunger satisfying effect, stored calories in fat cells, non-alcoholic fatty liver disease, insulin resistance, an inflammatory response in your body, and more. None of these consequences are conducive to performing at the highest level possible, let alone good health. So, make each calorie count as usable fuel in the near future, not something you accumulate in fat cells for later use.
Don't eat processed foods.
With the availability, cost, tastiness and convenience of processed foods leading to greater consumption by kids, the risk of nutrient deficiencies increases. Processed foods are full of unhealthy fats and high fructose corn syrup and are destined to leave you feeling lethargic, sick and fat. They also contain artificial ingredients which have been linked to Alzheimer's disease, cancer, allergies, and more. So, consuming food with a long list of ingredients, more than 5 or 6, on the label is not in your best interest from a health or athletic performance standpoint. Anything less than optimal gymnastics nutrition & dietary intake will create a decrease in athletic performance. So, power your training up with whole, nutrient-dense, real foods, not foods that are made in a lab.
Stay hydrated as a cornerstone of gymnastics nutrition.
Everyone knows that hydration is not only good for your health and staving off hunger pains, but it is also essential for performing your best at practice and in competition because of body temperature regulation. Once you feel the thirst sensation, you are already slightly dehydrated and certain physiological factors will be conceded affecting your performance. Meeting your hydration needs at this point can be a real challenge given you are still working out or in a competition. This is why pre-practice /competition hydration is critical; so you don't fall behind. As dehydration increases so do the symptoms. At first you may see a slight drop off of performance, then muscle cramps, heat exhaustion and heat stroke, even death in extreme cases. Staying hydrated is REAL important.
Take supplements if needed.
Follow the directions of a sports nutritionist if it's recommend that you take supplements. Not only will the nutritionist know your dietary needs, they will also know which supplements are safe for you to take. Additionally, some supplements may be more convenient at certain times than an actual meal so having a greater understanding of what will be most beneficial to you is essential. Ideally, meeting all of your nutritional needs through your diet is best. This is because the nutrition in your food will be more readily absorbed by your body. Nutrients in food act synergistic-ally with one another to complete the beneficiary effects of food and meet the needs of the human body. However, with the additional nutritional requirements of a gymnast, supplements may be added to make up for any nutritional differences.
Eat a post gymnastics workout meal.
Intense workouts diminish muscle glycogen (stored carbohydrates in the muscle, blood and liver) our primary fuel source and create micro-damage to the muscle tissue. Gymnastics nutrition can focus on the rebuilding and repairing of this muscles tissue that we actually get stronger and gain more muscular endurance. Nutrient timing isn't only important in executing your event to your highest ability, it is extremely important in replenishing glycogen stores, increasing protein production and slowing protein breakdown post-workout to speed recovery and improve muscle efficiency. The quicker we get replenishment to these areas of need, the sooner we "heal" the damaged muscle and slow the muscle breakdown caused by the workout. This will have a positive effect on your performance if you consume a carbohydrate and protein food source 1-2 hours following your intense workout. Light workouts may not need a post-workout meal or drink. A nutritionist will be better able to advise you on this given the intensity of your workouts and the composition of the rest of your diet.
This article is written by Rusty Gregory of Forte Fitness. Rusty is a an Austin personal trainer with 25 years of experience after earning his Masters degree in Kinesiology from the University of Michigan. Rusty also serves as a highly valued consultant to Austin basketball trainer (and Coachtube.com co-owner) Chris Corbett. He is a Certified Strength and Conditioning Specialist (CSCS) with the National Strength and Conditioning Association (NSCA) as well as a Certified Wellness Coach. Rusty is also the author of the following books: Self-Care Reform & Living Wheat Free For Dummies.
Note: The content in this article should not be used for medical advice, diagnosis or treatment. Consult with your healthcare provider about your specific health needs as you optimize your gymnastics nutrition plan.
---