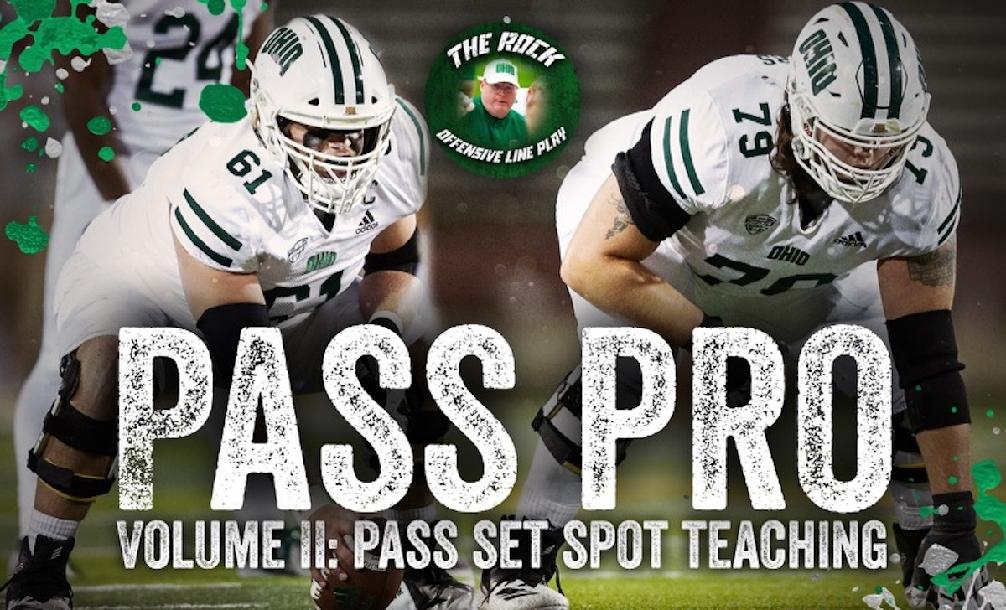 Description
A passing concept is only as great as the Pass Protection behind it. Every good Offensive Line coach understands the importance of keeping the Quarterback upright and clean. Coach Rudolph created this Pass Pro Fundamental Series to help all coaches out there learn the foundations of Pass Protection. Coach Rudolph covers every aspect of Pass Pro from the set to the strike to body position and much more.
Inside Volume II of the Pass Pro Fundamentals Series, Coach Rudolph covers:
-Aspects Involved in Setting the Spot
-How to Set Nose to Target
-The Factors that Determine the Spot
-How to Create Confidence in Owning Your Spot
-What to do when you get to the Point of No Return
The Coach
Allen Rudolph, a 26-year coaching veteran, enters his third season as the Ohio football program's offensive line coach in 2021 under 16th-year head coach Frank Solich.
In the 2 seasons in Athens, the Bobcat offense has been in the top 20 in the nation in rushing yards per game and top 10 in the nation in yards per carry. In the 2019 season, the Bobcats were 6th in the country in 3rd down conversion percentage.
Rudolph spent the previous three years as the offensive line coach at Arkansas State, helping to lead the Red Wolves to 23 victories and three bowl appearances – including a 31-13 win over UCF in the Cure Bowl in 2016.
The 2018 season saw the Red Wolves rank 17th in the nation in total offense with 466.2 yards per game and 21st in passing offense with 281.5 yards per game. Under the guidance of Rudolph, tackle Lanard Bonner earned First Team All-Sun Belt Conference honors for the second year in a row while center Jacob Still garnered Honorable Mention All-Sun Belt recognition for the second-straight season.
Rudolph coached an offensive line in 2017 that ranked fifth in the nation in passing offense (342.2 yards per game), 10th in total offense (494.8 yards per game) and 13th in scoring offense (37.8 points per game). A-State's average total offense was also a school record, while its 454 points scored tied the fourth most in school history. Rudolph's offensive line unit helped produce over 400 yards of total offense in 10 of 12 games, including a school and Sun Belt Conference-record 781 yards in a victory over Louisiana-Monroe.
The 2016 offensive line paved the way for 4,932 yards total offense that is the seventh most in school history. Led by two offensive linemen earning All-Sun Belt honors, the Red Wolves recorded over 300 yards total offense in 10 outings, more than 400 in five contests and at least 500 in two outings. The offensive line helped the squad record a season-high 525 yards in the Sun Belt opener, a 27-26 win over Georgia Southern. Under Rudolph's direction, senior offensive linemen Jemar Clark and Colton Jackson were both named all-conference as first and second team selections, respectively.
Rudolph came to Arkansas State after spending the previous three seasons as the offensive line coach for the Canadian Football League's (CFL) Hamilton Tiger-Cats. His time with Hamilton saw him help lead the team to the playoffs every year, including appearances in the 2013 and '14 Grey Cup.
Rudolph's coaching experience also includes stints at Northwestern State (2012), Southeastern Louisiana (2007-11), Samford (2005-06), East Mississippi Community College (2004), Louisiana-Monroe (2002-03), Mississippi College (2000-01), Copiah-Lincoln Community College (1999) and Nicholls State (1995-98).
Rudolph was a four-year letterman at Nicholls State (1989-93) and served as the team's starting center for three seasons. He was one of the Colonels' team captains in his junior and senior campaigns. A Jackson County, Miss., native, Rudolph earned his bachelor's degree in American studies from Southern Mississippi in 1995.
Rudolph and his wife, Nicole, have two daughters, Abbey and McKenzie.