Enter Code USSports to save 10% Off the annual subscription Learn more...
Game Planner Pro takes football coaching preparation to a whole new level.
Watch LIVE from Harmon Field Bill Chappell Stadium as the Dalton Catamounts host the Sequoyah Chiefs to open up region play. Live at DaltonToday.com Friday at 7:30p.
Sequoyah travels to Dalton to begin region play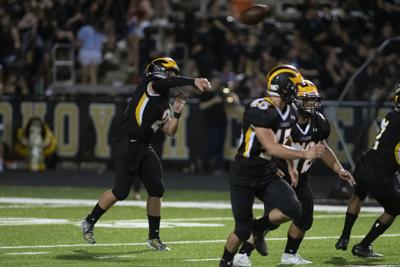 After earning its first win of the season last week against Osborne, Sequoyah will face Dalton -- a team looking for revenge, and with one of the best players in the state on its side.
Sequoyah (1-1, 1-0) eased into Region 6AAAAAA play last week with a 48-0 win. The Chiefs will now travel up Interstate 75 to face 10th-ranked Dalton (2-0), a which Sequoyah beat 42-14 last year.
This year's Catamounts, however, are off to a dominating start, having opened the season by outscoring Ringgold and Northwest Whitfield by a combined margin of 121-17. A big part of the success has been due to star running back and Georgia Tech commit Jahmyr Gibbs, who has rushed for 603 yards and 12 touchdowns in two games.
Sequoyah coach James Teter said it will be no surprise where the focus of the Chiefs' defense will be Friday.
"We'll have our work cut out for us trying to slow (Gibbs) down," Teter said. "He played against us last year, but he was hurt, so they used him as a decoy for the first three quarters or so before he broke a few long runs on us late. I'd be surprised if we didn't see a steady diet of him this week."
Sequoyah should feel good about its defense after holding Cherokee to 14 points in the season opener and Osborne to 6 total yards last week. Junior safety Jack Blackman leads the Chiefs with 12 tackles, while seniors Christian Kirby and Grant Gibson each have 10 tackles.
Sequoyah's offense got on track last week after being shut out against Cherokee.
Jaden Mitchell should continue to be the lead back in the Wing-T attack, as the junior scored both a rushing and receiving touchdown last week. Mitchell has totaled 71 yards on 18 carries through two games, while sophomore Aidan Moore leads the team in rushing with 85 on only five carries.
Teter said the offense is still finding its identity, with the main focus at practice this week being holding and maintaining blocks along the offensive line.
When asked what he expects from the Dalton defense, Teter kept the focus on his own team.
"We're seeing development," Teter said. "Do I wish it would go faster? Of course, but I think every game, every play will help our new players get more comfortable. I think, defensively, Dalton will be much improved, but I'll be honest with you. We're just trying to get better at what we do."
Friday will be the first region game for Sequoyah, which, after one more non-region game next week at Campbell, will face the remainder of its Region 6AAAAAA schedule.
Teter said his players understand the level of competition within the region.
"Most people think the south Georgia region (1AAAAAA) is better, but I don't think you can find one that's as deep as ours," he said. "We talk about it with our kids without putting too much pressure on them. I think they understand what our region is."